Video + download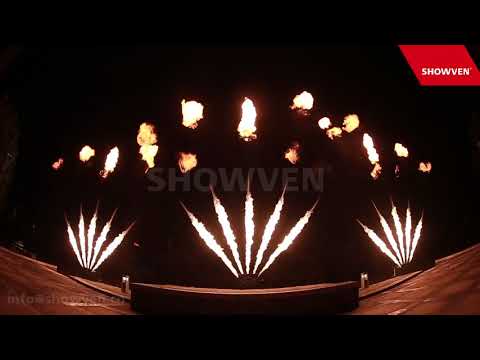 Product details
uFlamer Volcano is a flame machine equipped with five outlet nozzles, Plug & Play. Each nozzle can be controlled independently. It has more than 90 preset sequences. It has a 25 L stainless steel liquid tank with real-time fuel level display (both electronically and mechanically) and an internal pump capable of generating flames up to 10 m.
The housing is made of reinforced stainless steel, has a safety switch, integrated valve block design, customized waterproof igniter, and can also be used in the rain, being IPX3. Controllable by DMX, uFlamer Volcano is compatible with fireworks ignition system.
Ideal for firework displays, outdoor concerts, opening ceremonies, sports, scenic area etc.
Dimension: 630 x 450 x 400 mm
Net weight: 48 kg
Input: 200 - 240 VAC 50/60 Hz, 100 - 120 VAC 50/60 Hz
Work power: 2000 W
Single head flame height: 8 - 10 m
Flame angles: 5°
Fuel: ISOPAR G, ISOPROPANOL
Built in fuel tank capacity: 25 L
Ignition: high voltage electron ignition
Control DMX, Fireworks firing system
Water proof level IPX3
Interface 3-pin & 5-pin XLR
4 other products in the same category: