Explo GPL-12V
Professional gas projector for stage effects, controlled by an electronic ignition with internal 12 V battery
1,200.50 €
(VAT excluded)
-29% (List price 1,695.50 €)
Pay in 4 interest-free payments of 300.13 € with

Discover More
FREE SHIPPING FOR ORDERS OVER 199 € (WITHIN EUROPE)
Video + download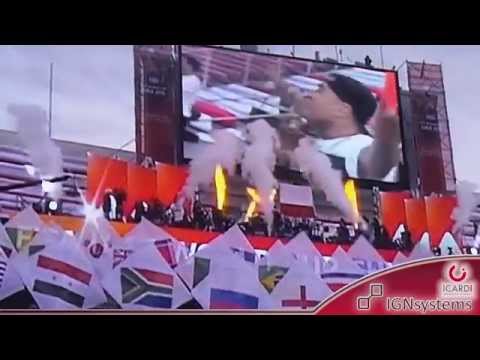 Product details
Gasprojector GX2 12V Liquid is a professional gas projector for stage effects allowing individual usage of flame pillars or fireballs. Designed for stage effect applications in live music festivals and concerts, clubs and discoteques, television and theater shows, fashion and sport events, rental companies. The liquid build of the GX2 allows the use of liquid fuel, like Bio-ethanol, Isopropylalcohol or Isopar, in addition to the usual use of Propane- / Buthane gas. The gasprojector GX2 12V is being controlled by an electronic ignition with internal 12V battery, and it includes 5m liquid tube, bottle connector, nozzles (for liquid fuel and outdoor nozzles). As long as the voltage is connected, the device will ignite. The effect height goes up to 10 meters. The sturdy built aluminium case makes the gas projector especially well suited for outdoor use. Multiple accessories are available, like Aerosole-adapters to allow the usage of either two or four aerosole cartridges as fuel for the GX2. Aerosole cartridges are especially well suited for indoor use, since you not bound to large gas bottles, or gas tubes. A special indoor nozzle allows for optimal use of the cartridge content.
Operated with the Explo master module or with the RX-1K gas, but can also be ignited with an external ignition pulse.
Use of liquid fuels such as bioethanol, isopropyl alcohol or isopar in addition to the usual supply of propane/butane gas.
The GX2 12V DMX can be controlled via the DMX protocol and synchronised with the rest of the show.
Optional DMX: With the optional DMX connectors, the GX2 12V can also be controlled via the DMX protocol and thus easily synchronised with other DMX compatible devices.
Optional AEROSOL: Aerosol adapters allow the use of 2 or 4 aerosol cartridges as fuel for the GX2. Aerosol cartridges are particularly suitable for indoor applications, since you no longer depend on the large gas bottles and the laying of a gas hose. A special indoor nozzle ensures optimum use of the cartridge contents.
Optional RX2-1K GAS: A further optional drive variant for the GX2 12V is the radio receiver RX2-1K gas. It allows precise ignition of the desired flame effects by means of radio control. This allows the gas projector to be installed quickly and easily in automated pyrotechnic shows.
| | |
| --- | --- |
| Power Supply:  | 12V lead gel battery |
| Case:  | Powder coated aluminium |
| Dimensions:  | 260 x 260 x 330mm |
| Weight:  | 6,8 Kg |
| Effect height:  | Up to 10m |
| Fuel:  | Isopropylalcohol, Bio-Ethanol, Isopar, Propane-/ Butane gas/Aerosol cartridges |
4 other products in the same category: